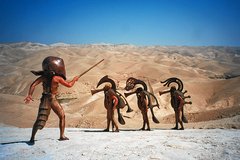 STERNENWEG - EUROPAWEG
Helmut Lutz, the international commuter born in Freiburg lives in Breisach. At his studio high above the Rhine, he created huge sculptural structures from steel, wood and stone with his Breisacher Schule (Breisach School). As communication stages, these have made stops throughout Europe with the title Sternenweg. Their route led also through the dessert to Jerusalem.
His transformation of the Festungsstern (star-shaped fortification) in Neuf-Brisach in Alsace formed a starting point. Beginning in front of the Strasbourg Minster, the Sternenweg followed the pilgrim route of the same name, visiting Paris, Pamplona and Lyon, before reaching Santiago de Compostela. From this westernmost point of Europe it turned eastward. There it visited the centers of Krakow and Prague, then the Piazza Navona in Rome and finally Athens. Invited by the Israel Festival 2000, the Sternenweg visited Jerusalem. This produced a link between the three significant pilgrimage destinations Santiago de Compostela, Rome and Jerusalem. 2004 Sternenweg was set up in front of Hagia Sophia and final in 2005 in Sarajevo.
Another piece was created with the topic of the war in Yugoslavia - a sound-ship called Im Augenblick. In association with the eastern connection of Europe, this project made stops along the Danube in Beuron, Ulm, Passau, Linz, Vienna, Bratislava, Budapest and finally in Mohacs, on the border with Serbia. At this border a huge wooden tear bearing the inscription »Europa weint« (Europe cries) was thrown overboard. With this income, the sound-ship visited in the year 2000 Sarajevo and afterwards Friedrichshafen's it's partner city and wtih final destination Lake Constance. Both works of art serves as a stage for partnership and communication, particularly for artists from Sarajevo.
As ambassador for the region of Alsace, Basle and the Freiburg area, Helmut Lutz serves as a builder of bridges for the state of Baden-Württemberg. He passionately places his life's work Sternenweg, soundship Im Augenblick and Radbühne in the service of encounter. In the coming years, international artists will appear on his sculpture-stages. The specially created figures are displayed at the associated performances. For the new art-work Welt-Uhr-Aufführung take a look at events 2007.